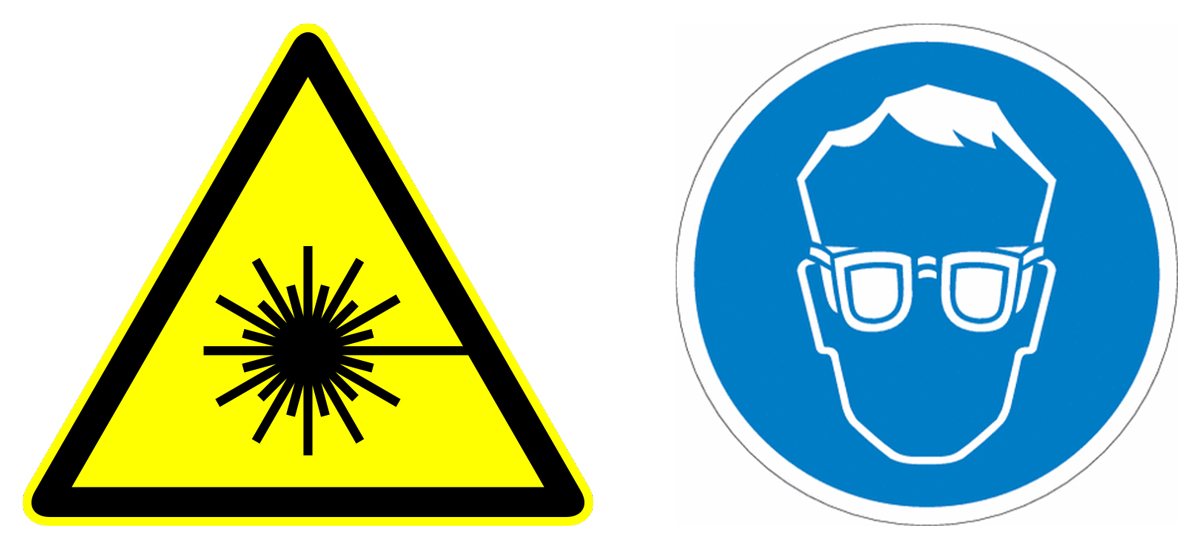 Our laser machines are built according to the latest guidelines and regulations.
Redundant safety precautions and safety circuits ensure that the user is never exposed to any hazards or harmed by a laser beam.
As a closed system, the machine corresponds to laser class 1 and is, therefore, classified as harmless.
However, it is of crucial importance to always follow the safety and operation instructions of the machine. Regular checks of all safety devices according to the maintenance schedule and service interval are a must.
Extreme caution is required, when laser processing flammable materials or when reactive decomposition products may occur.
Our laser units
Our laser units are classified category 4 and are extremely dangerous, if installation regulations are not strictly followed!
You have to take all necessary precautions to ascertain that neither you nor any other person in the proximity of the laser can be harmed.
All installations and modifications may only be carried out by trained specialists. It is of utmost importance to always switch off the power device, before the laser is opened. Follow the checklist and always wear laser safety glasses with filter values adapted to the laser beam type.
The requirements for the safety controls are to be determined and assessed according to the failure probability of the components according to SN EN ISO 13849-1.
(Alternatively according to the standard SN EN 62061 Performance Level d or e). 
Laser units with laser wavelengths outside the visible range (<400nm or > 700nm) are additionally equipped with a redundant acoustic or optical warning device.
General safety precautions
CAUTION
Note, that humans can only see light with a wavelength in the range from
about 400nm to 800nm. There are lasers operating with light outside this range.
Even if you can not perceive this radiation, it can be very strong and harmful for people working with the laser.
ATTENTION Laser light is harmful:
It can burn your eyes or your skin, even without you noticing it there and then!
The human eye is permeable to light with wavelengths between 350nm – 1200nm. Thus laser light can cause partial blindness due to retinal damage!
Even a laser light with a power of a few milliwatts can be dangerous! (e.g. laser pointers)
Even radiation from scattered laser light is dangerous!
Familiarize yourself with the meaning of warning signals.
Avoid unsupervised access to the laser room (interlock) by restricting access and using safety barriers.
Only use laser-resistant materials according to SN EN 12254 and/or SN EN 60825-4 suitable material or material which you have found to be suitable by means of a previous self-certification documented in writing with place, date and signature.
Make sure to know where the nearest fire extinguisher is located.
Train all involved employees.
Calculate and assess the necessary no hazard distance (NOHD).
Laser systems must be equipped with a key and emergency stop switch.